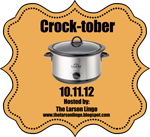 I love to cook in my crock pot.
isn't it great to throw dinner in at 7 am and not worry about it until dinner time?
i use mine for slow cooking meat.
roast or pulled pork, chicken breast
taco soup, vegetable beef stew, chili.
my new favorite is

seasoned pork butt
found this one at walmart
opened the package with scissors
placed it in the crock pot, put the lid on
turned it once after 4 hours
when it was done took it out onto a platter
and shredded it with two forks
threw together some sweet and tangy cool cole slaw


3/4 cup mayo
1/4 cup sugar
1 tsp salt
1 tsp dry mustard
2 TBS white vinegar
stir until well mixed
then add in 1 pkg of precut slaw
chill for an hour


warmed up some small flour tortillas
pulled pork and slaw tacos
easy and inexpensive meal
takes about 5-10 minutes to prepare
try it and let me know what you think.
happy crocktober!